Delhi Subordinate Services Selection Board (DSSSB) invited online applications for recruitment of Educational and Vocational Guidance Counselor under the Directorate of Education Govt. of NCT of Delhi. DSSSB advertise a huge numbers of vacancies for Psychology Students.  Further details are given below:
The details regarding name of the post(s), post code, number of vacancies, educational qualifications, experience required, pay scale, age limit etc. as per the Recruitment Rules provided by the user department are as under:-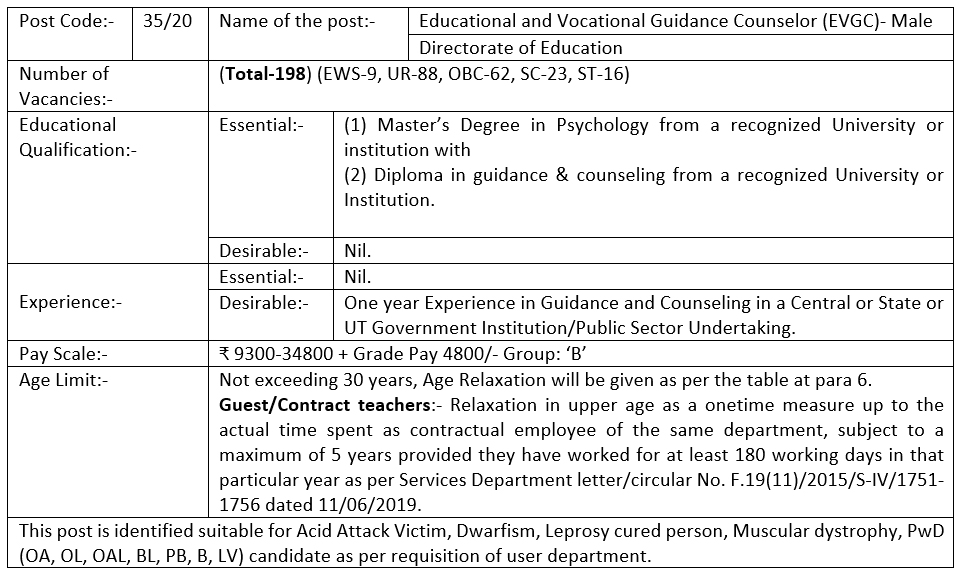 EXAMINATION FEES AND MODE OF PAYMENT: ₹ 100/- (One Hundred only)
MODE OF SELECTION: The selection shall be made through One Tier and Two Tier examination scheme and Skill Test wherever applicable.
Examination Scheme:
DSSSB will conduct One Tier and Two Tier Examination for the post codes as per examination scheme given in Annexure-I. However, DSSSB reserves the right to change/amend the examination scheme, if so required, any time before the examination.
Join us on Instagram, Facebook, and Telegraph and visit our website regularly for Latest Psychology admissions and vacancies:
Instagram: https://www.instagram.com/upseducation
Facebook: https://www.facebook.com/upseducation/
Telegram: https://t.me/upseducation
Website: https://www.upseducation.in/update