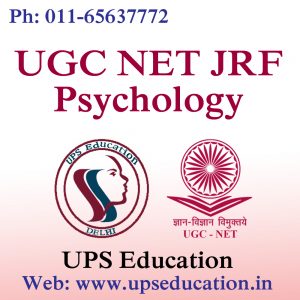 One and Two books are not sufficient for UGC NET Psychology because syllabus is broad and you need to compile all concept of Psychology so use your hand written notes. If you don't have then talk with your teacher and collect them. Only Study is not sufficient, must do practices through Objective type questions. Solve Mock Test Regularly. NET JRF is not so difficult. Just need to develop natural interest in Psychology. UPS Education Provide Classroom program for UGC NET Psychology preparation and we also provide special Distance Learning mode coaching for those students; who are not able to approach us for our regular classes.  Some key features of our Distance Learning Mode:
Notes written by Gold Medalist
Topic wise very sophisticated materials.
Mock Test Series
Self-Assessment Tool
Practice Sets
Sample Question Papers
Audio-visual Material
Online support
Notifications about admission forms and vacancies of different universities.
Contact us for more details:
UPS Education
Ph: 011-65637772
Web: www.upseducation.in